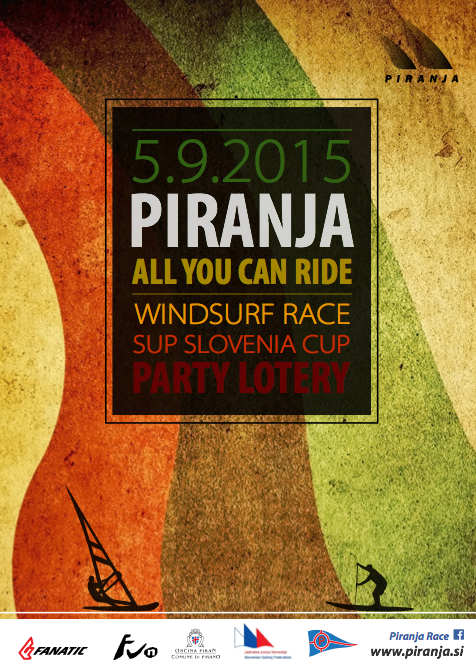 Dragi prijatelji vetra in morja!
Prvi konec tedna v septembru si tudi letos rezervirajte za surfanje in supanje! Vabimo vas na tradicionalno osmo Piranjo 2015, ki jo tudi letos organiziramo pod okriljem Jadralnega kluba Pirat iz Portoroža.
V soboto bomo kot običajno začeli z windsurf regato (predviden start je ob 12. uri), ob 15. uri pa bo start SUP regate, ki bo tudi letos štela za Pokal Slovenije. Regati se bosta odvijali v vsakršnih vremenskih razmerah, ki bodo dopuščale izpeljavo tekmovanja. Tekmovalci bodo opremo izbrali po svoji presoji in bodo na tej podlagi razvrščeni v razrede.
Sledilo bo tradicionalno popoldansko druženje ob podelitvi nagrad ter bogat srečelov, zvečer pa dobra zabava, kakršnih smo na Piranjah že vajeni.
Za več informacij obiščite uradno spletni stran www.piranja.si ter našo FB stran Piranja Race, kjer so objavljeni tudi razpis regate, regatna navodila in ostale pomembne informacije.
Prijave so že odprte na naslovu www.piranja.si/prijava
Dear friends of the sea!
Pirat Sailing Club is warmly inviting you to the 8th edition of Piranja – All You Can Ride Windsurf Race and SUP Contest in the charming Piran Bay, Slovenia, on September 5th 2015.
Program:
12.00 – starting signal for the windsurfing race
15.00 – starting signal for the SUP race
Piranja race will consist of sailing and paddling contests, followed by the prize-giving ceremony later in the afternoon, a nice every-ticket-wins-lottery, delicious lunch & dinner, free drinks and a great party on Saturday evening.
The format of the race is long distance and will take place in any permissible weather conditions; the equipment is chosen by the sailor him- herself and will be classified. After the windsurfing race, a SUP contest will be held on Saturday afternoon. Piranja SUP contest is also valid for Slovenia Cup.
For more informaton please check www.piranja.si and our Facebook page Piranja Race where the notice of race and other information will be posted.
Registrations are open at www.piranja.si/prijava